A cozy Mac OS X and iOS development corner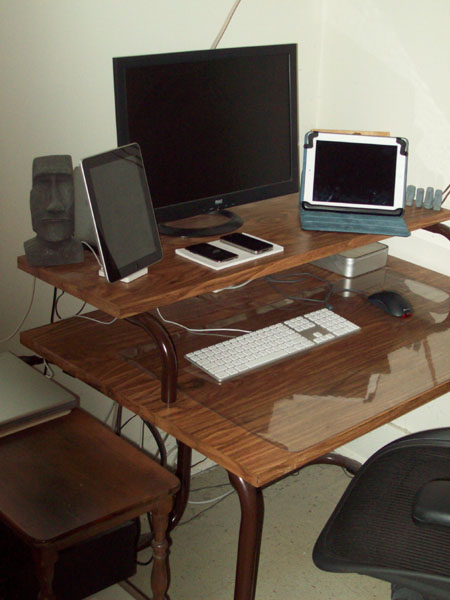 I thought I should give readers a little glimpse behind the curtain here at Digital Gamecraft, so here is a picture of my personal Apple technology desk on one of those unusual days during which a full complement of devices have gathered.  Usually, most of the mobile devices live in other places, but they occasionally come together for an ultra-local technology conference.  (In this case, they were all anxiously anticipating new provisioning profiles after the previous batch had expired.)
This desk in the corner of the office is used for the bulk of primary development and debugging for Mac OS X and iOS products.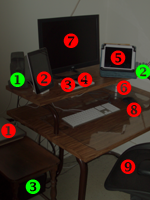 Here you see a simple key to the components of this image.  First, the parts labeled in red are the development components:
MacBook Pro ("late 2007"), 17-inch 2.4GHz, running Mac OS X 10.4 (Tiger) through Mac OS X 10.7 (Lion), and soon the developer preview of 10.8 (Mountain Lion), with the help of an external FireWire hard drive, mostly hidden from view by the next item.
iPad (original) 16G running iOS 3.2, the minimum iPad platform supported by our products.
iPod touch (2nd generation) 8G, running iOS 4.2.1, sans (unsupported) multitasking.
iPhone 4 with 32G, running iOS 4.2.6, with multitasking, GPS, camera, and (most importantly) a Retina display.
iPad 2 (Wi-Fi + 3G) with 64G, running iOS 4.3.5, named "Rabbit".
Mac Mini PPC running Mac OS X 10.4 (Tiger), the minimum Mac OS X platform supported by our software.
Mag Innovision widescreen monitor with dual inputs, running natively at 1680 x 1050, acting as an external display for both Mac systems.
Microsoft Mouse attached via Apple keyboard.  After a year of trying to keep this desk Apple-only, I had to surrender to the fact that Microsoft is just far better at making mouses.
Herman Miller Aeron chair, brand new, also known as my horizontal trans-workstation transport device (for quickly moving between this workspace and my Windows workspace).  After breaking chairs every 2-3 years, the 12-year warranty actually made this purchase seem much more reasonable.
The components labeled in green in the key are fundamental to productivity, though not directly part of the development process:
Head, the head head.  Head is responsible for employee morale, and keeping his minions in line.  ("I am so important that my minions have minions.")
Minions.  These (4) heads each have individual names, and they keep things lively by moving around the desk, often at night, very unlike their larger relatives.  You've heard of "talking heads"?  These are not those.
Pioneer stereo receiver, practically an antique, from the days where radio was broadcast through the air.  This magic box plays news from NPR as well as classic rock and blues (and, previously, jazz), and special shows are regularly recorded digitally for later/repeat listening.  [Not shown: separate cassette player/recorder and turntable components.]
That is a small look at one corner of my office, which serves as an important piece of our development effort.  With this range of equipment, we can develop and test products for the last 4 major versions of Mac OS X, on both Intel and PPC hardware, as well as on versions of iOS since the iPad was introduced, with at least one device with each technology.  (Of course, things change again on Friday with the availability of "The new iPad" and its large 2048×1536 Retina display.)
Note that the view just to the left of this picture is out a window into a small courtyard where birds and squirrels (black, brown, and red), as well as our cats, frolic during the day.  At night, you can hear the raccoons and opossums wandering through and, alas, smell the occasional skunk.
Perhaps, if you are all good girls and boys, I may later show you the desk at which I am currently writing this…