This is the International Academic Conference on Meaningful Play.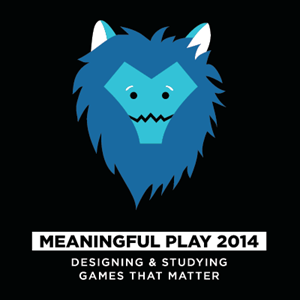 This week, Michigan State University hosts Meaningful Play 2014, the fourth edition of this bi-annual academic conference discussing "games that matter".
Meaningful Play 2014, running October 16-18, 2014 in East Lansing, Michigan, includes numerous keynotes, speakers, panels, roundtables, workshops, papers, and special events, all examining and promoting the idea that games can (and should) have a positive impact.
This year, SophSoft, Incorporated is not only attending the conference but, for the first time, we are sponsoring Meaningful Play.  In addition to sponsoring, we will be exhibiting our games (as Digital Gamecraft) in the Pure Michigan Game Exhibition and Celebration, giving away free copies of Demolish! Pairs, and I will be participating in a panel, Growing the Game Industry in Michigan: 2014 Update.
I have attended Meaningful Play two (of three) previous times, in 2008 and 2010 (missing 2012 only due a scheduling conflict), and I found them to be quite refreshing.  Like other conferences I have attended, I leave filled with inspiration, but as an academic conference, this one also challenges me with many new ideas about games, with scientific studies, unique approaches, and non-commercial products not seen at major industry events.
Over the new few days, I intend to document my experiences and takeaways from Meaningful Play 2014, for which I will link below as articles are published:
Meaningful Play 2014, Day 2
Meaningful Play 2014, Conclusion