A favorite product is now available on a new platform.
This week, Goodsol Development released Pretty Good MahJongg Mac Edition 1.0, our very first published Apple Mac OS X version of this award-winning title.  Pretty Good MahJongg Mac Edition is a MahJongg solitaire game which has 160 different tile matching layouts, but also 32 original solitaire games played with MahJongg tiles, as well as a custom layout editor (only available in the full/purchased version).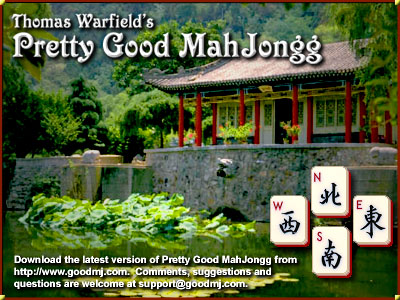 The develoment of Pretty Good MahJongg Mac Edition took longer than originally anticipated, due at least in part to working on three different products for three different platforms simultaneously.  The end result, though is very satisfying, and this Mac Edition has all of the same gameplay features as the Windows version, including downloadable tile sets.  The next major update of PGMJME will bring the number of solitaire games (and tile matching layouts) even with its 8-year-old sibling, but that is in the (not too distant) future.  For the moment, I am looking for the expected 50% productivity gains on the other two major upcoming releases.
You can download a trial version of PGMJME 1.0 from the Mac Edition web site, and you can purchase Pretty Good MahJongg Mac Edition for only $24.95.  (Registered users of the Windows version can find a link for a discount coupon on the Goodsol web forum.)  What a deal!
I challenge anybody to catch me in Free Klondike (one of the original solitaire games in PGMJME, and my favorite) playing in climb mode.