Our good friend and Art Director has passed away.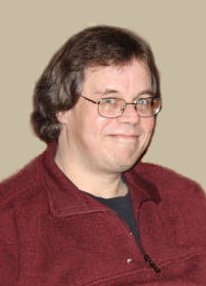 Last Friday, Richard A. "Rick" Tumanis, my long-time business partner and longer term friend, died unexpectedly in his sleep.  Rick served as Art Director for SophSoft, Incorporated and Digital Gamecraft, of which he was a founding member.
Raised in Battle Creek, Michigan, Rick received a degree in English from the University of Michigan, followed by a law degree from Cooley Law School, but he chose to pursue a career in video game artwork, as well as his personal love of making music.  Rick began in the video game industry in 1987 when he joined Quest Software and provided artwork for the classic title, Legacy of the Ancients (Electronic Arts); he followed that up by creating all of the artwork for its quasi-sequel, Legend of Blacksilver (Epyx).
In 1995, Rick joined up with (then) Sophisticated Software Systems, contributing to games such as Mission Critical (Legend Entertainment), ZPC (Zombie), Vegas Fever (Encore), Card Crazy 2 (Encore), Slot City 2 (Encore), and MVP Backgammon Professional (MVP Software).  He was lead artist on Bicycle Card Collection (Microsoft), included in Microsoft Plus! Game Pack: Cards & Puzzles.  This led to a collaboration with Goodsol Development, for which he provided almost all artwork for more than 10 years, on games including Pretty Good Solitaire, Most Popular Solitaire, Action Solitaire, FreeCell Plus, and Pretty Good MahJongg.
At the time of his death, Rick was working on a couple of upcoming iOS games and completing work on his most recent solo album, Earfull.
Services were held 1:30pm, Thursday, August 4, at Farley-Estes & Dowdle in Battle Creek, with visitation an hour prior.  Click here for Rick's obituary page.  [edited 08/08/2011]
Rest In Peace, Rick.  It is a shame that you did not see all of our big plans come to fruition.  You will be greatly missed.