Overall Performance Grade:
B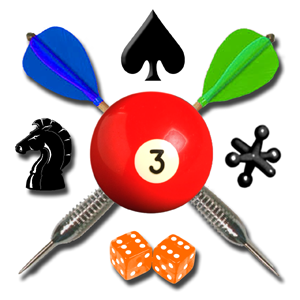 Despite being in the middle of our two-week break, I decided to take a short hiatus from the warm tropical sunshine (actually, the snowfall outdoors and a space heater in the office) to do a performance review of this past year at Digital Gamecraft and SophSoft, Incorporated.
Major Events
We released a maintenance update to this popular collection of 8 FreeCell Solitaire games (plus 4 bonus games) on October 16, for both Windows and Mac OS X.
We released a maintenance update to this top-selling collection of 30 Solitaire games (plus 13 bonus games) on October 12, for both Windows and Mac OS X.
We released a maintenance update to this collection of 101 favorite Solitaire games (plus 34 bonus games) on September 25, for both Windows and Mac OS X (after the earlier release of GSCI 2.10 on July 3).
During August and September, we experienced major failures of systems running (in order) Mac OS X, Linux, and Windows, while development continued (mostly) apace.  All systems were restored, development processes were optimized, and this Gamecraft blog was improved.
We released a significant upgrade to this arcade Solitaire game on May 15, adding 5 more games for a total of 75 games, for Windows (only).
Starting in January (and extending into March), we published a 6 part article, plus introduction, giving a most detailed listing of guidelines and pitfalls associated with submitting a product to Apple for inclusion in the Mac App Store (for OS X).
We released an update to this definitive collection of MahJongg Solitaire, tile matching, and puzzles, which contains 55 games and 300 layouts, on September 25, for Windows (PGMJ 2.41) and Mac OS X (PGMJME 2.02).
The company attended the inaugural ISVCon conference (renamed from Software Industry Conference) in Reno, Nevada, and I presented Quality Assurance for Small Software Publishers and also spoke on the How Games are Different panel.
We released another major update to this largest collection of Solitaire games for Mac, adding 25 new games for a total of 400 games (plus 60 bonus games), on November 27, for Mac OS X 10.4/Tiger through (current) 10.8/Mountain Lion (after the releases of PGSME 2.30/2.32/2.33/2.34/2.36/2.38 earlier in the year).
In January, our company celebrated its 30th ANNIVERSARY, making us "The Most Venerable Independent Game Developer in the World."  (It may be a bit of hyperbole, but we have been doing this since well before many "indie developers" were even born.)
What Went
Right
Digital Gamecraft has remained a full-time independent game development company for the 18th consecutive full year (stretching back into 1994, as Sophisticated Software Systems). Some internal projects, including Demolish! Pairs, have made huge strides, and we have multiple iOS projects poised to release early in 2013, while maintaining our expertise in Windows and Mac OS X platforms and adding others (to be announced).
Product development was really solid for the entire year, and our strong association with Goodsol Development continued, as evidenced by the numbers: 18 SKUs published (plus two quiet updates), 16 closed beta versions, 6 internal (alpha) versions, and 3 more updates pending release.  That is a SKU/update shipped about every 8 calendar days, on average, not at all bad for a small company.  A new development/release schedule for Pretty Good Solitaire Mac Edition is more efficient and working well (so far).
What Went
Wrong
The heavy release schedule of various Solitaire games on multiple platforms took a toll on the resources (mostly time) available for other projects, compounded by the several weeks of hardware and system failures and recovery, so Demolish! Pairs was delayed (again) until early 2013.  Marketing efforts are nascent as well.
Despite the improved release schedule, desktop sales have not lived up to expectations, based on results from previous years, so some rethinking and second-guessing has taken place.  In particular, the division of effort between (tried and true) desktop development and (less reliable) mobile development (for lower price points) is a matter of some risk.
Final Evaluation
On balance, I awarded a grade of B for overall performance in 2012.  Although specific tasks, especially the intention of shipping a new Digital Gamecraft product, were not fulfilled, the entire year was fully productive and reestablished forward momentum after a disappointing 2011.  This also takes into consideration progress on a number of projects that do not (yet) figure into the published release schedule.
We are capable of an A+ grade in 2013, so that is clearly the goal.