Today, the oldest independent game developer in the world celebrates the 40th anniversary of its official founding.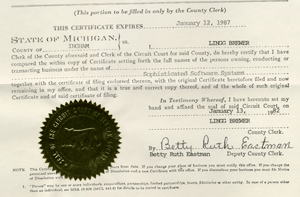 On Wednesday, January 13, 1982, forty years ago today, I took my completed "Certificate of Persons Conducting Business Under Assumed Name" form into the Ingham County Clerk's office in downtown Lansing, Michigan, signed where I needed to sign, paid my $10 fee, and thereby officially established Sophisticated Software Systems.
Over the years, the structure of the business changed. After many years as a sole proprietorship, I brought in two partners and we incorporated as SophSoft, Incorporated in early 1996. A couple years later, we launched Digital Gamecraft, a division specifically for developing our own game projects, and last year we were awarded a registered trademark for Digital Gamecraft®.
In the early years, I developed products for a number of platforms and experimented with different business models. Our first legitimate success was a self-published title for MS-DOS, using the "shareware" method, in 1990. That game led to additional contacts in the retail game industry. We went full-time in 1994, and soon we had as much contracting work as we could handle; in fact, we had products in 3 different booths at the very first E3 in May 1995.
Since that time, we have done a great deal of work, especially in game development. The relative priorities of types of work have shifted over time; we still do contracting, but the focus recently has been on self-funded projects, while the retail game work, both contracting and pitches for funding, has necessarily waned.
Yesterday, I went back a did a cursory review of the work we have done over the years (and especially prior to this blog starting), and here are some fun facts:
We have pitched 8 different 'AAA' retail products (and teams) to publishers.
We have developed more than three dozen retail/commercial titles.
We have created 40 significant internal projects, plus 120 minor projects.
We have done work for 19 different clients, 8 of those for multiple projects.
We have worked on approximately 60 distinct projects for these clients.
We have been stiffed on multiple projects, and ghosted at least twice.
We have 32 projects planned and prioritized, plus 4 more added recently.
I am very proud of the work that the company I founded has done for the last 4 decades, and I am proud that I played a principal role in most of it. However, the anniversary is somewhat bittersweet because the two people who most helped me, my partners, Sherry Seelhoff (Director of Operations, and my wife) and Rick Tumanis (Art Director, and friend), did not live to see this day and to celebrate it with me.
Still here, still working, and still young enough to hope for another 40 years. 😉