Overall Performance Grade:
B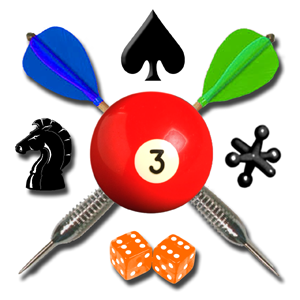 As the number of hours left in 2013 dwindles down to minutes, it is a good time to look back on the past year and do an honest performance review for the work we have done at Digital Gamecraft and SophSoft, Incorporated.
Major Events
We created a roadmap of our upcoming development projects, which list "contains 30 games, in 6 different genres, spanning approximately one dozen platforms, plus a productivity application and an information web site."  Toward the end of the year, we also did a reevaluation of our company purpose, vision, and mission, confirming our goals and how each of the above products help fulfill them.
#9:
iOS Development
We finally released our first iOS titles this year, and once we started on the new platform, we shiped 12 SKUs for iOS (7 titles and 5 updates).
We released the initial iOS version of this collection of 101 favorite Solitaire games (plus 34 bonus games) on June 3, and we released a significant update on September 27.
We released the initial iOS version of this collection of 30 most popular Solitaire games (plus 13 bonus games) on April 25, with a significant update on August 14.
We released the initial iOS version of this collection of 8 FreeCell type Solitaire games (with 4 bonus games) on April 2, and a significant update on July 31.
#5:
Pretty Good Solitaire Mac Edition 2.50
We released this update to the premier Solitaire program for Mac OS X, bringing the total to 500 games, after two previous updates, PGSME 2.42 (420 games) and PGSME 2.44 (440 games), earlier in the year; we also launched a major upgrade project to make the next version of PGSME, due fairly soon, even better.
We released the initial iOS version of our flagship Solitaire product with 500 games, the biggest Solitaire package available for iPad, on July 16, and then followed that up with a significant update on October 22, with 520 games (plus 72 bonus games).  We also refined our upgrade development process for this title.
We released the very first version of this collection of 9 Klondike, FreeCell, and Spider Solitaire games, for iPad, on March 22, and published a significant update on July 26.  This was a major event not only because it was our first ever iOS game, but also because, on March 27, it became the #1 card game in the App Store.
We released a free-to-play version of our arcade/puzzle game, Demolish! Pairs, on November 6.  This was the second SKU from Digital Gamecraft, and our very first venture into the "free" section of the App Store (with decidedly mixed results).
On June 18, we released Demolish! Pairs 1.0, our puzzle/arcade game for iOS, thereby reentering the self-publishing arena.  It was the first title published by Digital Gamecraft, and the last to contain fully custom artwork (and sounds) from our late artist, Rick Tumanis.  Although it was not the runaway success that it should have been, it provided a positive first step and, along with Demolish! Pairs FTP, gave us some very useful information about the iOS market.
What Went
Right
Digital Gamecraft has remained a full-time independent game development company for (now) the 19th consecutive full year (stretching back into 1994, as Sophisticated Software Systems); this alone is a significant accomplishment.
Our product development continued apace, as did our strong affiliation with Goodsol Development, resulting in 15 SKUs released in 12 months.  We firmly established ourselves on the iOS platform, and Digital Gamecraft has published its own titles.
What Went
Wrong
The video game industry, as a whole, is in a period of crisis, even though some "evangelists" continue to preach the opposite.  Continuing to survive in this depressed climate is a true challenge (though we strive to thrive).
We have seen falling sales and reduced revenues, and our entry into the iOS market with products on the App Store has done little to stem the negative trend.  In fact, it distracted us somewhat from Windows and Mac development, where the sales are slowing, but which are still a better investment than mobile platforms (for now).  Our experiments in free-to-play marketing suggest that it is not a general solution.
Final Evaluation
On balance, I awarded a grade of B (again) for overall performance in 2013.  My initial inclination was to grade our efforts as a C+, but when I looked back on what actually happened in the year, we met most of our development goals.  Digital Gamecraft released its first two games, and we broke into the iOS market with numerous titles.  Although reduced income does cast a pall over the year (and my mood), I determined that it should not count against our productivity grade.
That said, though, things will clearly need to improve in 2014, and we have already taken steps to achieve that, but this is a discussion for another post. 🙂