Our first iOS title is now available in the App Store!
On Friday, Apple approved A Little Solitaire, our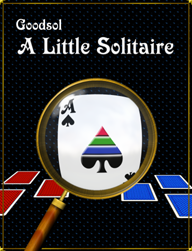 first Solitaire game for iPad (of several), and it is now available in the App Store for only 99 cents!
A Little Solitaire is, as suggested by the name, a small collection with 9 of the most popular computer Solitaire games.  This includes Klondike (a.k.a., Solitaire) [4 variants], FreeCell [2 variants], and Spider, with its Spider One Suit (easy) and Spider Two Suits (average) variants.  The product includes 3 different card sets, as well as 16 back designs, and features all of the quality gameplay you expect from Goodsol Development (and our implementation 🙂 ).
Over the weekend, A Little Solitaire has hovered just outside the Top 50 in its category, Card Games (i.e., Games->Card), where it remains (for the moment) on the front page.  It has a few reviews, but I am particularly pleased by this 5 Star review:
"Wow — I have been waiting so long for this app for the IPAD. Nicely done as I would not expect anything else from this developer. I have the Mac games and THANKS for the IPAD version. Will look forward to more apps and graphics are nice, game play is like it should be played. THANKS!!!!"
This makes me feel that the effort to make a quality game was appreciated.  A mediocre review based solely on games that a reviewer would rather have…  not so much.
Check it out, and please let us know what you think.