MahJongg Solitaire and Tile Matching for Windows and Mac OS X.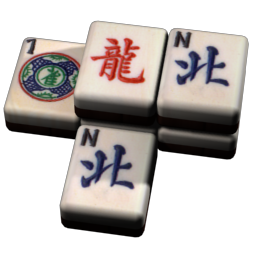 Goodsol Development has published Pretty Good MahJongg 2.41 and Pretty Good MahJongg Mac Edition 2.02, maintenance updates to this award-winning MahJongg game, featuring both original solitaire games and traditional tile matching puzzles, available for both Windows and Mac OS X.
Pretty Good MahJongg contains 300 tile matching layouts, an integrated layout editor, and 55 solitaire and puzzle games, most of which are original and unique, including Pyramid of Wild Dragons, which was designed exclusively for this product by Thomas Warfield.
In Pretty Good MahJongg, you can play 10 different types of solitaire and puzzle games, including MahJongg FreeCell, Crazy Quilt, MahJongg Klondike, MahJongg Spider, and MahJongg Gaps, playing card solitaire games adapted to only 3 suits with 9 ranks, plus extra tiles (such as Dragons).  In Pyramid of Wild Dragons, you build pyramids from a hand of tiles.  In Great Wall, you match tiles to remove them from a grid and then the tiles above fall down to fill in the gaps.  In Pelmanism (Memory), you play a classic game of memorization and recall.  In Four Rivers (Shisen-Sho), you remove proximate pairs of tiles until the tableau is cleared, while in MahJongg Stones, you add single tiles to a zen garden until all of the tiles rest in harmony and balance.
Of course, PGMJ also features standard tile matching, and it ships with 300 layouts, including "Standard" (the most common layout); you can play more than 2 billion deals of each layout, and these deals can be (by default) guaranteed winnable.  However, registered users also get an integrated layout editor that allows them to create and play custom layouts, using up to 4 full MahJongg sets (576 tiles!), alongside the other layouts.  You can share these layouts with your friends or even share them with all other players.  You can download more tile sets (for both solitaire and tile matching games), and with any image editor you can create your own custom tile sets.
You can download a free 30-day trial version for Windows 8/7/Vista/XP or Mac OS X 10.4 or later (Mountain Lion, Lion, Snow Leopard, Leopard, or Tiger).  For only $24.95, you can buy PGMJ 2.41 for Windows or buy PGMJME 2.02 for Mac, and receive all of the above, including the integrated layout editor.  (That is only 7 cents per game/layout!)
Pretty Good MahJongg just celebrated its 10th birthday in October!  This was the first full game that I (solely) wrote to be published by Goodsol, and it remains the one game that I still play almost daily a decade after its initial (1.0) release.  I also flexed some quasi-artistic muscles and generated three tile sets myself, including two (Simple Tiles and International Marine Signal Flags) which ship with the game, and the other, Playing Card Tiles, which is currently the most popular downloadable tile set.  Active development continues, as version 2.5 with even more games and layouts is scheduled for 2013.